2015年5月8日,中国电子信息行业联合会与工业和信息化部国际经济技术合作中心组织召开"2015年欧洲数字单一市场战略"研讨会。中欧数字协会(ChinaEU)主席、意大利电信集团副总裁Luigi Gambardella先生担任主讲,他重点讲解了"欧洲为什么需要数字单一市场"以及"这一战略对中国的影响"两方面内容。阿里巴巴、中兴通讯、中国普天、CEC、国家电网、亚信、中标软件以及中国信息通信研究院、赛迪研究院、欧洲中国企业家联合会、美国AT&tT公司等研究机构、协会相关人员参加会议。
On May 8, 2015, China Information Technology Industry Federation (CITIF) and the Center for International Economic and Technological Cooperation of the Ministry of Industry and Information Technology (CIETC-MIIT) jointly organized a seminar on "2015 European Digital Single Market (DSM) Strategy". Mr. Luigi Gambardella, Chairman of China-EU Digital Association (ChinaEU) and Vice President of Telecom Italia, presented the plan, mainly focusing on two aspects: "why Europe needs a Digital Single Market" and "the impact of this strategy on China". Among the participants, there were representatives from Alibaba, ZTE Corporation, China Putian, CEC, State Grid Corporation of China, AsiaInfo, China Standard Software Co., Ltd., China Academy of Information and Communication Technology, CCID Institute, Macro Euro-China Entrepreneurs Club (MECEC), the American AT&T and other research institutes and associations.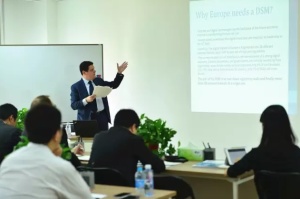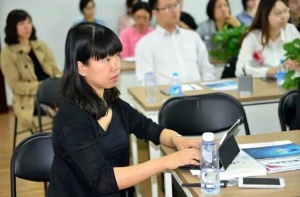 据Luigi 先生介绍,5月6日,欧盟委员会正式启动《数字单一市场战略》。目前,欧洲数字市场割裂严重,28个欧盟成员国有独立的规章制度,对数字经济发展极其不利。欧盟实施数字单一市场战略,主要目的就是消除国家间的管制壁垒,将28个国家的市场统一成一个单一化的市场。如果这一计划得以顺利实施,将为欧盟带来4150亿欧元的经济增长。
The European Digital Single Market Strategy was officially launched on May 6. Today, the European digital market is extremely fragmented, with 28 EU member countries having their independent rules and regulations. The current situation does not facilitate the healthy development of the digital economy. The main purpose for the EU to implement the digital single market strategy is to eliminate regulatory barriers among the 28 member countries and unify the markets of these countries into a single market. If this strategy is successfully implemented, it will bring 415 billion euros of annual economic growth to the EU.
该战略实施后,消费者、中小企业和创业公司、产业界将是最大受益群体。对于消费者而言,意味着更大的选择权,更好的电信和互联网服务,更大的透明度和消费者权益保护,更多的创新性产品和服务以及更多的就业机会。对于中小企业而言,跨境业务的蓬勃发展带来的是一个超过5亿消费者市场,跨境业务成本更低,跨境包裹递送费用更低,在与公共部门打交道过程中负担更轻。对于产业界而言,市场发展会更快,传统企业与新企业之间竞争更公平,行业会带来更多的公共投资与合作,在数字技术的使用上更加安全。
Consumers, SMEs and start-ups, and the industry would be the main beneficiaries of the Digital Single Market. For consumers, it means more choices, better telecom and Internet services, greater transparency and consumer protection, more innovative products and services and more job opportunities. For SMEs, the booming cross-border business will bring a market of more than 500 million consumers, lower costs for cross-border business, lower cross-border parcel delivery costs and lighter burdens in the process of dealing with public sectors. For the industry, it means faster market development, fairer competition between traditional players and newcomers, more public investment and cooperation opportunities, as well as better and safer use of digital technologies.
该战略提出了建设单一数字市场的三大支柱,第一大支柱是为整个欧洲的消费者与企业提供更好的数字化产品和服务;第二大支柱是创造有利于数字网络和服务繁荣发展的有利环境;第三大支柱是使数字经济的增长潜力实现最大化。这三大支柱共包含16项具体行动措施,欧盟委员会希望能在2016年年底前完成单一数字市场建设。
The strategy builds upon three main pillars. The first pillar is to provide better digital products and services for consumers and enterprises throughout Europe; the second pillar is to create a favorable environment for the prosperity and development of digital networks and services; the third pillar is to maximize the growth potential of the digital economy. These three pillars contain 16 specific action measures, which the European Commission hopes to complete by the end of 2016.
Luigi表示,该战略也会对中国企业"走出去"产生积极影响。欧洲数字化单一市场战略的实施,将使欧洲成为全球最富有的数字市场,也更便于中国企业进入欧洲。目前中国企业进入欧洲市场比较困难,这是由于28个欧盟成员国有独立的规章制度,这意味着目前一个中国企业如果在欧洲运营,需要开28个不同商店,遵循28个国家规则。但是,欧洲数字化单一市场战略实施后,企业设立一个商店就可以覆盖欧洲全境五亿消费者市场,市场进入更为便利化。既使没有拓展欧洲市场的计划,关注欧洲的立法进程,也将有利于企业根据新规则调整战略,适应未来发展趋势。
Luigi said the EU strategy would also have a positive impact on "going global" ambition of Chinese companies. The implementation of the European Digital Single Market Strategy would enable Europe to become the world's richest digital market and make it easier for Chinese enterprises to enter Europe. Today, it is quite difficult for Chinese enterprises to enter the European market. This is because the 28 EU member states have their independent set of rules and regulations, which means that if a Chinese enterprise wants to operate across Europe, it would need to open 28 different stores and follow the rules and regulations of the 28 countries. However, if Europe realized a Digital Single Market, an enterprise could access a market of 500 million consumers by opening a single store, making the market entry much more convenient. Even if a Chinese company has no plans to expand into the European market, it is still important that it understands and keeps abreast with the European legislative process, as rules and regulations set in the EU are likely to be followed by other regions as well.
会前,Luigi 先生与中国电子信息行业联合会执行秘书长高素梅女士就双方合作等问题进行了友好洽谈。
Before the meeting, Luigi and Ms. Gao Sumei, Executive Secretary General of CITIF, had a friendly talk on bilateral cooperation and other issues.
Source:
中国电子信息行业联合会/ China Information Technology Industry Federation (CITIF)