Asia and Europe discuss Digital Connectivity
The Chinese Vice-Premier Wang Yang and more than 600 international attendees from Asia and Europe converged to Qingdao on the 19th and 20th of June 2017 for the high-level forum on digital connectivity from the Asia-Europe Meeting (ASEM).
ASEM was founded in 1996 to foster cooperation between Asia and Europe and facilitate international dialogue on key economic and political issues. Today, it is the largest intergovernmental organization between the two continents, boasting a total of 51 member countries and two supranational organizations – the European Union (EU) and the Association of Southeast Asian Nations (ASEAN).
The city of Qingdao has seen spectacular growth rates in the past decades. Since 2006 the annual growth rate was 18.1 percent and the city's GDP reached $55.4 billion. Qingdao has been named one of the six "golden cities" of China by the world bank. The success of two local technology companies – Hisense and Haier – has boosted the local corporate scene Qingdao.
H.E. Wang Yang, Vice-Premier of China, echoed the global success of both companies in his keynote speech at the opening ceremony: "China will expand opening-up in areas such as telecommunication and the Internet in an active and prudent manner, and deepen digital industry cooperation with other countries".
H.E. Wang Yang, Vice-Premier of China,
giving his keynote speech at ASEM.
Besides the opening ceremony and plenary session the forum hosted four panel discussions with the following subjects: Digital Infrastructure Construction, IT Industry Cooperation and Development, Cross-Border E-Commerce, and Big Data and Industry Upgrading. ChinaEU is honored to have attended and participated in this forum.

Mr. Luigi Gambardella, President of ChinaEU,
on connecting China to Europe via the cloud.
Mr. Luigi Gambardella, President of ChinaEU, pleaded in the plenary session, for a 'digital leg' of  the One Belt one Road initiative (OBOR), also known as the Belt and Road Initiative (BRI): "To fully deliver its promises, OBOR requires a borderless cyberspace area where manufacturing-as-a-service or product-as-a-service can be developed and where big data can be stored and analyzed."
Gao Hongbing, Vice-President of Alibaba and Director of Aliresearch, described the mobile internet as the driver of mankind towards a truly online digital era. Connections will not be just between people but also among things, IoT. By 2020 the connection of things will be three times the connection of people.
Xia Yiping, the Co-Founder and CTO of the Beijing originated bike-sharing company Mobike, also stressed the importance of IoT. He argued that his companies' bikes are made possible because of IoT. Mobike is not just a bike-sharing platform but through their business model they also contribute to solving problems such as congestion and greenhouse gas emissions. Without innovations in IoT these sorts of solutions and business models would not have been possible.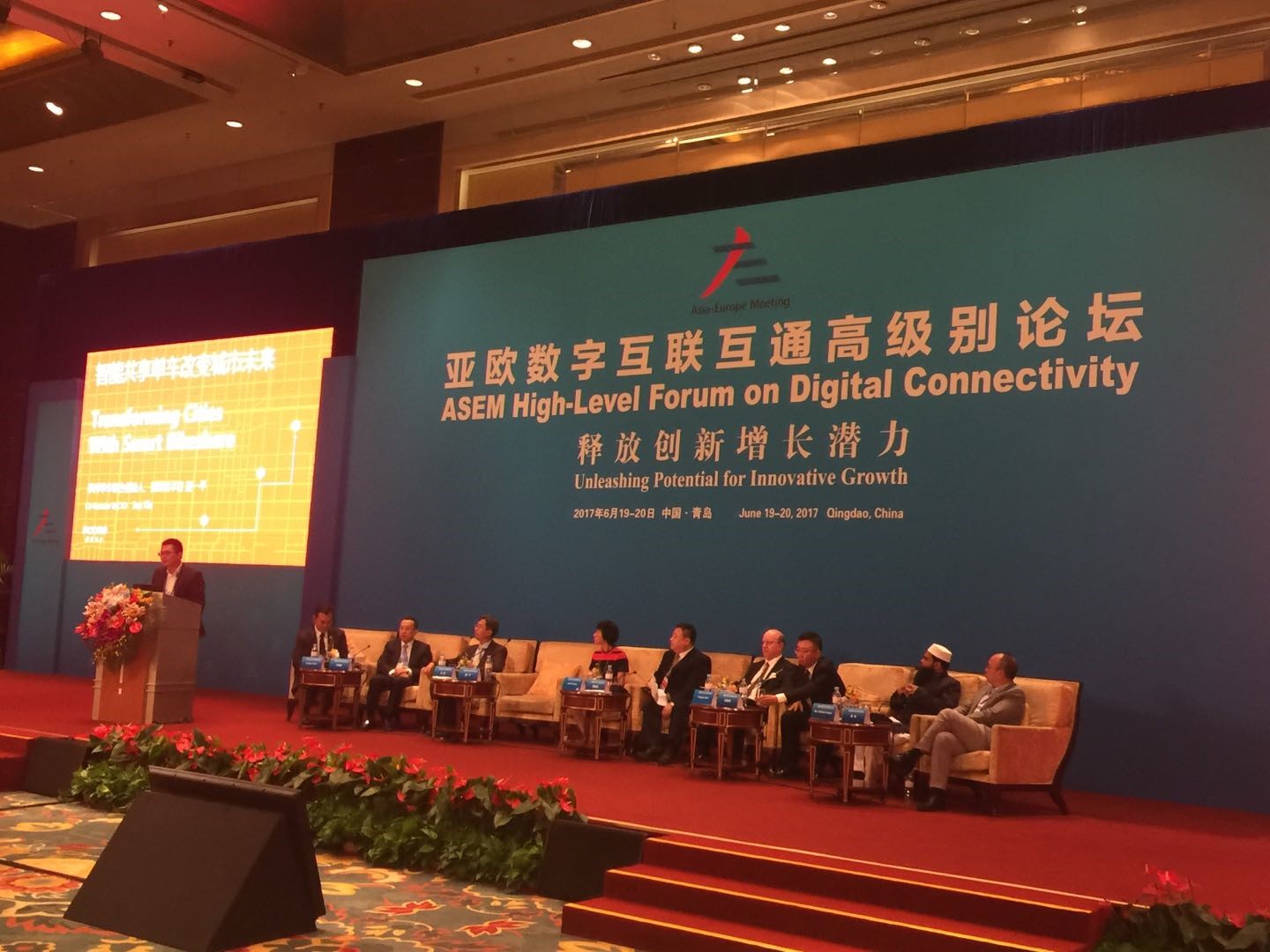 Xia Yiping, Co-Founder and CTO of Mobike,
addressing the ASEM summit.
Tian Rirui, vice-president of Lenovo, debated with representatives of business such as Wang Baihua, CEO and CTO of Inspur group, Jian Zhixiang, the Chairman of Sharing Mobile, Chen Xiaohua, CEO of 58 Daojia and CSO of 58 Group, in the panel, dedicated to "Big Data and Industry Upgrading", which was moderated by Claudia Vernotti, Co-Founder and Director of ChinaEU.
Tian Rirui reminded that "while Lenovo's big data provides a variety of products and services, consumers has also something to win together with the businesses in building large data technology capabilities, business value to achieve the release of large data assets, productivity, commercial cooperation of the whole value of the ecological circle."

Ms. Vernotti, Director of ChinaEU, moderating the panel on "Big Data and Industry Upgrading".
Ms. Vernotti summed up the consensus of the panelists: "Deep technology: AI, big data, cloud computing and robotics are the technologies of the future, they are deemed to change global production chains and drastically improve service delivery."
The High-level Conference on Digital Connectivity, organized by ASEM, drew significant media attention. On the other hand, ChinaEU was impressed by the professionalism of the Forum's organization.
Press Review:
Xinhua: China calls for stronger Asia-Europe digital connectivity
China Daily: Asia-Europe forum underscores big need for global connectivity
People's Daily: 畅通亚欧信息之路
China.com: 亚欧数字互联互通高级别论坛青岛开幕