Interview with Luigi Gambardella, President of ChinaEU in view of the visit of Commissioner Oettinger to China
Lu Wei, director of the CAC and Luigi Gambardella, President of ChinaEU
Broadband4europe: Gunther Oettinger, European Commissioner for Digital Economy and Society will visit Beijing on 28 September. Why is this visit so important for China and the Chinese people?
Luigi Gambardella: China became the leading manufacturer of digital equipment during the last decade. Today Chinese companies are exporting high tech over the whole world, providing employment and revenues to thousands of Chinese workers, from factory workers to highly qualified IT specialists and microprocessor designers. The European Union is a major export market for these companies. Staying in touch with the key European decision makers in this area is thus very important for China, who aims at becoming a leading global innovator.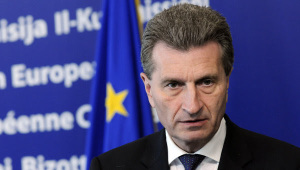 Guenther Oettinger, European Commissioner for Digital Economy and Society
BB4E: What is the aim of this visit?
LG: The main reason of the visit is the participation to the EU-China High Level Economic and Trade Dialogue, but this will be clearly a unique occasion for Commissioner Oettingerto discuss closer cooperation with China in a number of strategic areas, such as the next generation of mobile communications (5G), the successor of the currently deployed 4G and also known as LTE. 5G is approximately one thousand times faster than 4G! The visit follows up the China-EU Summit and earlier high-level meetings. Minister Lu Wei has visited Brussels for the first time in July where he met many European decision makers and business leaders. Europe is very high in the radar of Minister Lu Wei, who is well aware of the unique cooperation opportunities with the EU industry and research centers and of their potential contribution to the further growth of the Chinese internet industry.
BB4E: What is exactly 5G?
LG: 5G is not fully defined yet. The aim is to provide seamless connectivity everywhere and all the time. It is not just an improvement of the current mobile technology, allowing faster smartphones and tablets. It's more than that. 5G will be the global industry standard for many different technologies that will facilitate our everyday life in a wide variety of areas: the Internet of the Things. 5G will be the start of the 'digital transformation' of our life. We have not seen anything yet. Potentially everything can be connected. For example, connected cars. Other vehicles and central traffic management centres will provide cars connected over 5G with real-time information. The connected cars will react autonomously to these data, for example braking in case of emergency.  Besides information from other sources, vehicles would have sensors, radar and roof-mounted lidars to be able to detect obstacles completely autonomously and to react to dangerous situations, faster than human beings would do. This will enable automated driving: cars without human drivers.
BB4E: But how can China benefit from a closer cooperation with Europe on 5G?
LG: 5G does not only mean tremendous business opportunities for vendors, producing network equipment, like for example ZTE, which is today already one of the major contributors to and participant in research on International 5G standards. Companies producing high tech equipment necessary to equip cars, trains, central heating and air-conditioning systems, fridges, elevators, etc will have tremendous opportunities to grow. China has the expertise and the manpower to be in the leading position to provide these new high-tech products and applications. But the industry needs visibility on the timing of the operational launch of 5G. Car manufacturers, fridge producers etc will only buy their technologies and include them in their consumer products and appliances when 5G will be there. That's where Commissioner Oettinger and Minister Lu Wei play such crucial role. We urgently call the two sides to finalise as soon as possible a strategic collaboration on 5G followed by an agreement on Internet Plus.
BB4E: What should the two sides do exactly?
LG: I see three priority areas. First, spectrum. 5G will require a blend in various spectrum bands, from sub 1 GHz spectrum all the way up to the 40 and even 80 GHz bands. If connected cars use other frequencies in Europe and China, this will reduce economies of scale for the production of the required equipment and complicate exports . Second:timing. Oettinger and the Juncker Commission are advancing efforts to ensure a timely development of global standards and a spectrum management concept for 5G. China should support this move, to unlock the tremendous business opportunities of the Internet of the Things. Third: standards. Industry needs a clear view of which standards will be used for which applications. Only global standards will ensure full inter-operability of connected devices and communications networks. China and the EU could leverage their unique technological and market strengths collaboratively to establish a major strategic presence in the future 5G mobile markets globally.
Shi Lirong, CEO ZTE
BB4E: And is the industry conscious of these opportunities?
LG: In Europe, key vendors and manufacturers, including leading Chinese companies present in Europe, have entered into a public-private partnership with the EU, the 5G PPP. The EU is funding research and pilot projects allowing to test new applications in fields as diverse as smart cities, smart energy, urban traffic, manufacturing, health care, etc.. In China, a leading member of ChinaEU, ZTE was the first to propose  the Pre-5G concept, which caused a sensation in the industry. In November 2014, ZTE and China Mobilecompleted the test of the world's first Pre-5G Massive MIMO base station. The Pre-5G  adopts the most practical core 5G technology, provides user access experience close to that of the 5G and is compatible with LTE terminals already present in the market. What the industry is waiting for to pass to the next production stage is visibility on the calendar of the deployment of 5G, the identification of the applications that will be launched first and, as mentioned, global standards for 5G. This the reason why it is so important that China and the EU work together in cooperating and implementing joint research actions in the field of 5G.
BB4E: You seem very optimistic.. Can you elaborate?
LG: When I see the promises of 5G for the automotive industry, the better management of energy, the health industry, environment technologies, the public transport systems in our congested urban centers and the emergence of smart cities etc.. I am indeed enthusiast. Who should not be?
However, the road may be long and contain ambushes. For example, access to new applications could be prevented, delayed or made more expensive as a consequence of patent wars, like those that we saw with 3G. A joint political initiative from China and the EU would be useful to clarify the application of the intellectual property rules in this domain characterized by fast innovation, whereby new applications will necessarily build on tenths of existing elements, on which competitors may hold patents.
Source:
Broadband4Europe