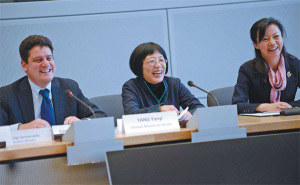 ChinaEU will participate at  the China-Europe Investment and Connectivity Cooperation Forum (Monday November 9th 2015, 08.30-17.00, Room JDE52, Committee of the Regions, Rue Belliard 99-101, 1040 Brussels).
China and the EU are strategic partners, with intense economic, political and people-to-people relations. As we mark in 2015 the 40th anniversary of diplomatic ties, China and the EU are exploring avenues to further deepen cooperation, not least in the fields of investment and connectivity, where there is strong potential to boost mutual growth.
At a bilateral Summit held in Brussels in June, China and the EU agreed to explore synergies between China's One Belt, One Road Initiative and the European Investment Plan, to set up a joint investment fund, to strengthen cooperation in the development of the digital economy and to establish a Connectivity Platform. In September, China and EU have signed a Memorandum of Understanding on the China-EU Connectivity Platform and issued a joint declaration on 5G cooperation. China also became the first non-EU country to contribute to the European Investment Plan. At the same High Level Economic Dialogue meeting, the two sides reached an important agreement on the scope of bilateral investment agreement negotiations.
Looking to build on this momentum, the Mission of China to the EU, together with the European Union Committee of the Regions, will co-host on 9 November a China-Europe Investment and Connectivity Cooperation Forum bringing together decision-makers, business representatives, and academics for an in-depth discussion on these initiatives and next steps. Panel debates will seek to explore synergies between the Belt and Road Initiative and the European Investment Plan; avenues for strengthening China-Europe connectivity; and the potential for regional cooperation, including in the China-CEEC (16+1) format.
Digital will be one of the main topics of the forum, which dedicates a full panel entitled 'digital economy and ecommerce'. Luigi Gambardella, President of ChinaEU, will moderate the discussion, which will look at the business and investment opportunities unleashed by China's Digital Silk Road initiative and by the European plan to create a digital single market.
Many distinguished speakers have confirmed their participation, including H.E. Mr. Jyrki Katainen, European Commission Vice President for Jobs, Growth, Investment and Competitiveness, H.E. Mr. Markku Markkula, President of the CoR, H.E. Madam Yang Yanyi, Ambassador of China to the EU, Ms. Wang Dan, Deputy General Manager, China's Silk Road Fund, Dr. Wu Shicun, and President of the National Institute for South China Sea Studies. Among the industry representatives there will be ZTE, HSBC, Bank of China and CRRC.
To register, please email chinaforum1109@gmail.com before 4 November, mentioning your full name, title, nationality, DOB and ID document number. Registration is subject to confirmation.