The Belt and Road Forum, a major step towards President's Xi dream
Since the high-level Forum held on 14-15 of May 2017 in Beijing, China's 'Belt and Road' (BRI) project has really become global.  The Forum was attended, on the one hand, by 28 other heads of state, while 101 further States were represented at ministerial level, and on the other, by tenths of international organizations – including ChinaEU – think thanks and corporations.
President Xi opened the forum and pledged to increase the funding of the project by at least $113 billion. President Xi also went into his vision for the project:
"We need to seek win-win results through greater openness and cooperation, avoid fragmentation, refrain from setting inhibitive thresholds for cooperation or pursuing exclusive arrangements and reject protectionism."
President Xi reiterated that the Belt and Road Initiative is an inclusive project saying that: "What we aim to create is a big family of harmonious co-existence."
President Xi Jinping addressing the opening ceremony of the Belt and Road Forum
The general tone of the subsequent interventions was of support and praise for what President Xi Jinping's called the "project of the century plan", which already involved investments in infrastructure, railway and highway, automobiles, real estate, power grids, and iron and steel. No less than 60 countries are targeted, located in Asia, the Middle East, Europe and Africa, alongside the historical silk road. The aim of the Chinese leadership is clearly to leverage its weight as main manufacturing country in the world to increase China's influence in global affairs. On the other hand, the BRI is a 'win-win' proposal, generating also benefits for the participating countries.  The mutual benefits brought about by the projects were stressed again in the joint communique issued at the closure of the (government) Leaders Roundtable of the Belt and Road Forum for International Cooperation, of which the full text was published subsequently by the Chinese press agency Xinhua. In line with the discussions in Beijing, the final communiqué goes well beyond the traditional economic arguments, but refers for example also to environment protection.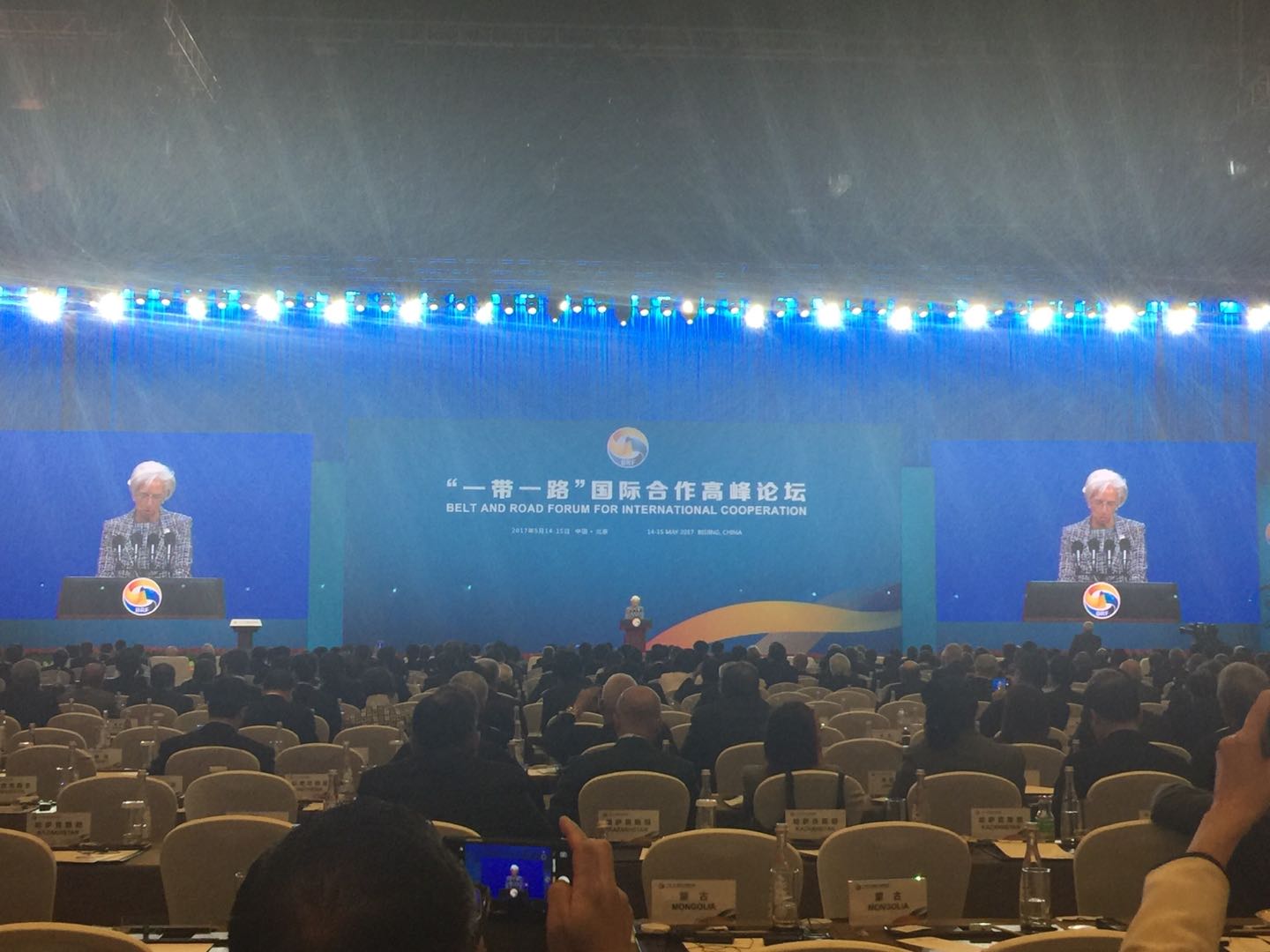 Mrs.  Christine Lagarde, Managing Director of the International Monetary Fund delivering a keynote speech at the plenary session of high-level dialogue of the Belt & Road Forum
To reassure the countries participating the project, the communique repeats again that the projects' implementation is to be guided by principles of: consultation on equal footing, mutual benefit, harmony and inclusiveness, market-based operation, and balance and sustainability. The communique moreover stresses that the cooperation should be implemented in a  spirit of openness, transparency, and inclusiveness.
"In a nutshell", said ChinaEU's  president, Luigi Gambardella, "the plan of President Xi is an ingenious invention, and the largest non-conflicting development cooperation plan in the world."