A glimpse of ChinaEU at successful 1st EU Cross Border E-Commerce Forum 中欧数字协会参加圆满成功的首届欧盟跨境电商峰会一览
The first-ever EU Cross Border E-Commerce Forum (EUCBEC) held at Belgium's Liege Airport on December 11 and 12, 2019, turned out to be a giant success. The two-day event, organized by theWallonia Export-Investment Agency AWEX and the first Chinese media specialized on cross-border e-commerce Cifnews while supported by ChinaEU amongst others, had seen some 40 speakers and 400 more visitors from China and Europe enjoying best practices and jointly exploring future of the China-Europe cross-border e-commerce.
2019年12月11日和12日,首届欧盟跨境电商峰会(EUCBEC)在比利时列日机场举行并获圆满成功。此次峰会为期两天,由比利时瓦隆大区外贸与外国投资署(AWEX)和中国首个跨境电商媒体雨果网(Cifnews)共同组织,由中欧数字协会及其他机构支持。近40位演讲嘉宾及400多位访问人员参加了峰会,他们一睹跨境电商最佳示范风采并共同探讨中欧电商合作未来。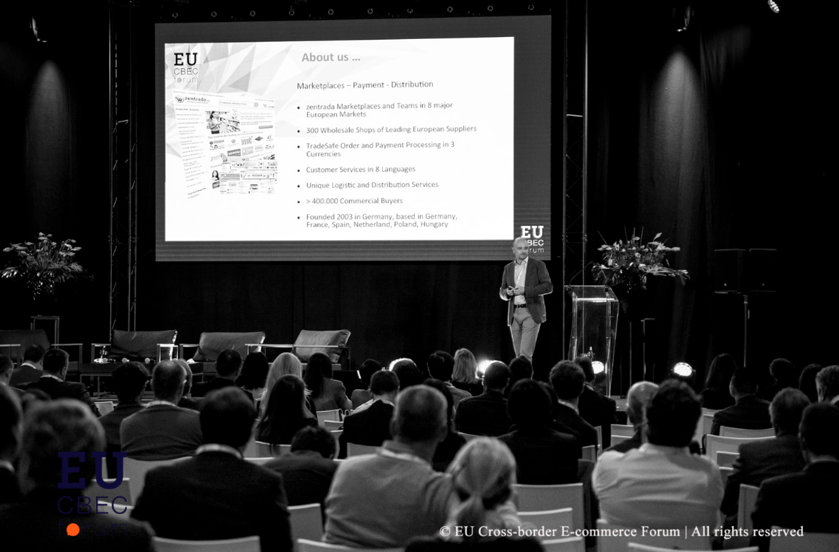 The forum surprised spectators with its rich programs including keynote speeches from business leaders and policymakers, and colorful panel sessions gathering tech giants, front runners, and crucial players in e-commerce. In the meantime, 2 live streaming sessions brought the audience the perfect experience of China's latest trendy business model while exhibitions and networking sessions allowed companies to show off their best practices as well as identify business opportunities.
本次峰会日程丰富,很受欢迎:商界和政界领袖引领主旨演讲;分论坛聚集科技巨头、电商领跑者和重要公司等,精彩纷呈;两场直播让观众完美领略现在在中国火热的商业模式;此外,展览区和社交区也使众多公司大展风采、共寻商机。
Chinese tech behemoth Alibaba's presentation on its eWTP (Electronic World Trade Platform) and the European strategy of Cainiao, Alibaba's logistics arm, were among the highlights at the Forum. Alibaba's eWTP and Liege airport captivated global attention when Alibaba and Belgium signed a deal to build a 220,000-square-meter smart-logistics hub at the airport in late 2018. The hub, with an initial investment of 75 million euros, is currently under construction and set to operate in early 2021.
中国科技巨头阿里巴巴展示其eWTP(世界电子贸易平台)及阿里巴巴菜鸟物流的欧洲战略,是本次论坛重头看点之一。2018年末,阿里巴巴与比利时签署协议在列日机场建设一个22万平方米的智能物流枢纽,使eWTP和列日机场引发全球关注。此枢纽获初始投资金额7500万欧元,目前正在建设中并计划于2021年初投入运营。
ChinaEU, after facilitating the organization of the forum, hosted a panel discussion themed with "SUCCESS STORIES IN CROSS-BORDER E-COMMERCE: A kaleidoscope of experiences from cross-border players" on December 11. Claudia Vernotti, Director of ChinaEU, was invited to chair the talks with three panelists, namely Giulio Finzi, Co-Founder and Secretary-General of the Italian e-commerce consortium Netcomm, Allen Yao, Founder and CEO Of D1M, a leading eCommerce service provider for brand-owners in China, and Jessica Radicchi, International Key Account Manager on E-Commerce at the global watchmaking giant Timex Group. The panelists shared their success stories and experience and presented a vivid picture of how Chinese and European companies sailed the ocean of cross-border e-commerce.
中欧数字协会此前参与峰会筹备工作。12月11日,中欧数字协会还主持了分论坛 "跨境电商成功案例:跨境参与者经验万花筒"。中欧数字协会主任韦茉莉受邀主持与三位嘉宾会谈,他们分别是意大利电子商务协会(Netcomm)联合创始人兼秘书长Giulio Finzi;中国领先电子商务服务提供商第一秒电商科技(D1M)创始人兼首席执行官姚玥和全球制表巨头天美时(Timex)集团电子商务国际大客户经理Jessica Radicchi。三位嘉宾分享了其成功经验,并为听众生动描绘中国和欧洲公司如何在跨国电子商务浪潮中乘风破浪。
Netcomm has driven rapid growth since 2005 and Mr. Giulio Finzi gave examples of the company's collective projects linking Italian brands to the Chinese market.
自2005年以来,意大利电子商务协会发展迅猛,Giulio Finzi先生列举了把意大利品牌与中国市场打通联系起来的例子。
Mr. Allen Yao commented on the status and landscape of cross-border e-commerce in China and demonstrated channels, including social media, Alibaba's Tmall Global, Taobao channels and so on, that European brands should consider in their China e-commerce strategy plans.
姚玥先生谈了中国跨境电子商务现状和前景,提出欧洲品牌在中国电子商务战略计划中应考虑的渠道包括社交媒体、阿里巴巴天猫环球和淘宝等。
Ms. Jessica Radicchi shared Timex's e-commerce strategy in China and takeaways from the multinational's cross-border e-commerce journey.
Jessica Radicch女士分享了天美时集团的中国电子商务策略及其跨境电子商务之旅的收获。
Ms. Claudia Vernotti briefed the audience on the outlook of the cross-border e-commerce for China-Europe bilateral ties. She stressed that e-commerce has a solid footing and bright future in China with the swelling Chinese middle class among the biggest buyers of European luxuries, food and wines, and other high-quality products.
韦茉莉女士向听众介绍了中欧双边跨境电子商务前景。她强调,电商在中国有坚固基础,未来很有发展势头。中国中产阶级正在崛起,是欧洲奢侈品、食品、红酒及其他优质产品最大买家之一。
By June 2019, China's online users hit 854 million and its digital buyers are set to reach 634 million in 2020, which poses a giant opportunity for Europe concerning cross-border e-commerce, Claudia Vernotti noted. In the meantime, she also announced the first China-Europe Digital Commerce Summit organized by Netcomm and ChinaEU to take place on May 7, 2020, in Milan, Italy, welcoming speakers, exhibitors,and participants.
韦茉莉还指出,到2019年6月,中国网络用户已达8.54亿,数字消费者将在2020年达到6.34亿,这为欧洲跨境电子商务提供巨大机会。同时,她还宣布了由意大利电子商务协会和中欧数字协会主办的首届中欧数字商务峰会将于2020年5月7日在米兰举行的消息,欢迎嘉宾、展商和与会代表们参加。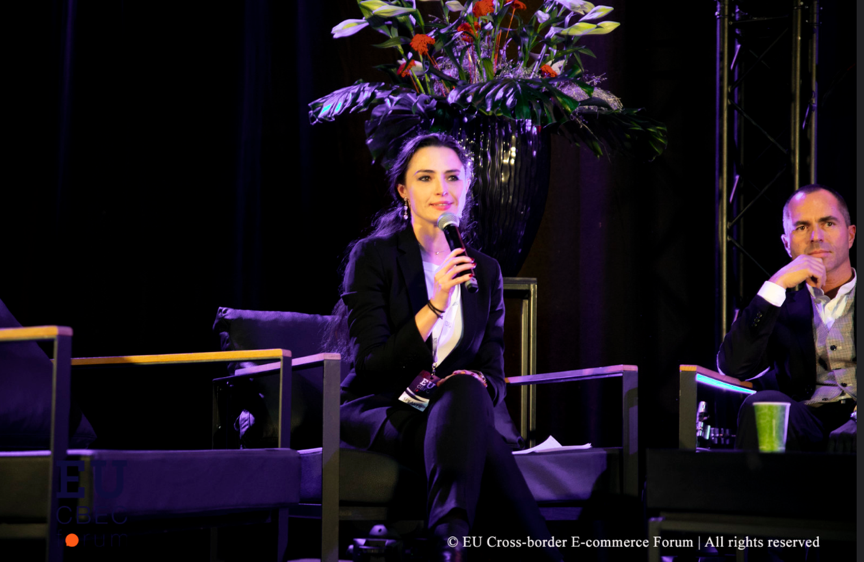 After the conclusion of the first EUCBEC, the second version of the forum was announced to be held in October 2020.
继首届欧盟跨境电商峰会结束,第二届峰会被宣布将于2020年10月举行。
Click here to look at the entire photo album of the first EUCBEC.
点击这里观看首届欧盟跨境电商峰会照片合辑。