ChinaEU at the B20 Kick off Meeting in Beijing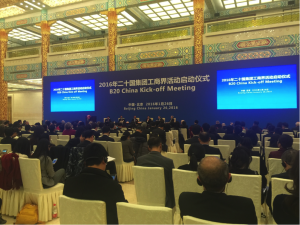 On January 26th, some 500 business leaders and representatives from G20 countries and international organizations attended the B20 kick off meeting at the Great Hall of the People in Beijing. B20 is a platform through which the private sector produces policy recommendations for the annual meeting of the G20 leaders. Since its foundation in 2010, B20 has proposed over 400 policy recommendations for G20 members. China took over the G20 presidency on December 1, 2015 and will host the G20 summit in the Eastern city of Hangzhou from September 4 to September 5, 2016.
The January 26th B20 kick off meeting, was organized by the China Council for the Promotion of International Trade (CCPIT). At the meeting, CCPIT introduced the structure of the different B20 taskforces, released the list of Chairs and Co-Chairs and presented proposed priority topics and timelines for each taskforce.
Five taskforces were established: Financing Growth (chaired by Miao Jianmin, Vice-Chairman and President of China Life Insurance Group), Trade and Investment (chaired by Frank Ning, Chairman of Sinochem), Infrastructure (chaired by Ren Hongbin, Chairman of China National Machinery Industry Corporation), SME Development (chaired by Jack Ma, Executive Chairman of Alibaba) and Employment (chaired by Robin Li, Chairman and CEO of Baidu), plus an additional special forum on anti-corruption.
Digitalization will be dealt with as a horizontal topic, discussed from different angles in all of the five taskforces. Broadband deployment and 5G development will be discussed in Infrastructure, digital trade, data transfer and Internet finance will be tackled in SME Development, innovation and high tech entrepreneurship will be key discussions in Employment, while Trade and Investment will look among others at simplification and harmonization of standards for cross-border e-commerce.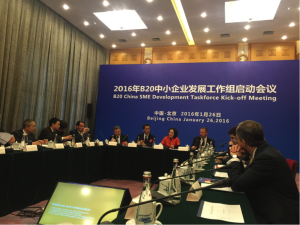 ChinaEU attended the B20 meeting as a member of the SME Development Taskforce, with suggestions to overcome the most pressing obstacles to the development of SMEs, namely access to finance, access to global value chains and innovation ecosystems, and improved regulatory environment.
Future Sherpa meetings will take place in Washington in mid April and in Paris at the end of May. B20 China will also leverage the Boao Forum for Asia in March and the St. Petersburg International Economic Forum in June to provide additional opportunities for discussion. B20 Summit is expected to take place at the beginning of September in Hangzhou, in parallel with G20 Summit.
In the coming months, ChinaEU and its partners will continue to strive to obtain that the interests of the digital sector are fully reflected in the agenda of the G20.
Attending the B20 kick off meeting were also China's Vice Minister of Foreign Affairs Li Baodong and Chinese Vice Premier Wang Yang. The latter said the theme of G20 China "building an innovative, invigorated, interconnected and inclusive world economy" reflects the key issues of the world economy and encouraged business leaders to focus on the construction of a G20 trade investment mechanism to boost global trade and investment cooperation.