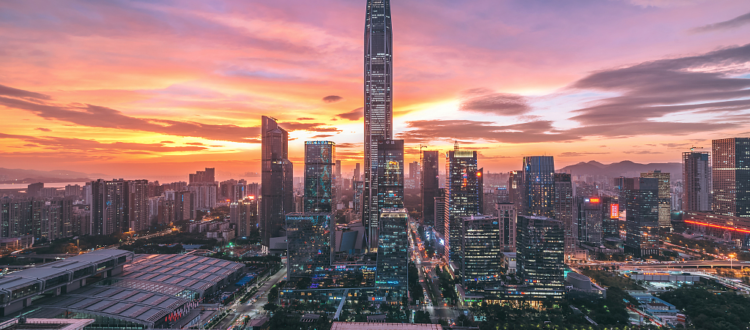 By Luigi Gambardella, President of ChinaEU
An aerial view of Shenzhen. [Photo/VCG] Source: China Daily
Shenzhen can be test bed for the most advanced smart city applications
Cities host about half of the global population and the proportion is growing, with China's urbanization fueling the phenomenon. By 2050, seven out of every ten people will live in a city. If we want to avoid congestion and a decreasing quality of life, traditional bureaucratic management of ever more densely populated cities, we need to look to a wide range of smart technologies that can help city administrators.
The smart solutions offered are diverse. But their adoption is still at an early stage, making it very difficult for city councils to commit substantial investments to what are untested solutions.
"Test beds" allow manufacturers to provide evidence supporting cost/benefit assessments of potential new smart city applications. In this area, China is a world leader: more than 500 smart city pilot projects are under way, half of the world's total. And Shenzhen, China's tech hub, stands out as the country's best performer in this regard.
Last year, Shenzhen, which is known as China's "Silicon Valley" ranked first on the list of smart Chinese cities, according to a report published by Chinese Academy of Social Sciences. And it is among the world's pioneering smart cities, according to McKinsey & Co which examined the smart performance of some 50 global cities in 2018. Shenzhen had high scores for developed technology bases, an impressive number of applications and sound awareness, use and satisfaction among its 12.5 million residents. Shenzhen has adopted artificial intelligence and big data to better control its traffic flows and enhance road safety, for instance, identification of traffic violators has 95 percent accuracy while a real-time, data-backed parking management system aims to take 330,000 vehicles off the road each day. Shenzhen is on the way to catching up with leading global smart cities such Milan, London or Barcelona in this respect.
Shenzhen is targeting being a benchmark smart city. I am convinced that Shenzhen will succeed for the following reasons:
To begin with,the city is not burdened with conservatism and traditions from the local town hall government. Since it was selected to be China's first Special Economic Zone and opened up to foreign investors in 1980, Shenzhen has developed from an impoverished fishing village into one of China's largest and wealthiest cities as well as a global manufacturing and innovation powerhouse. Its gross domestic product surpassed that of Hong Kong in 2018, hitting a record 2.42 trillion yuan ($361.24 billion).
Second, while European smart cities depend on applications from global providers, Shenzhen is home to more than 11,000 national high-tech enterprises, including many homemade tech giants, such as Huawei, Tencent and BYD, which are shaping and powering smart cities both domestically and globally. Shenzhen is ideally located to enable these high-tech enterprises to explore business models and how to monetize innovative smart city applications.
Shenzhen is expected to embrace about 7,000 5G base stations this year. The ultrafast internet connection will be the backbone of the city's smart development, although, that being said, more efforts are needed and Shenzhen should speed up the construction of its 5G network.
Third, Shenzhen's Longgang District, established with an investment worth up to 500 million yuan, hosts one of China's most dynamic smart communities, covering 17,748 square meters. Life is like riding a bicycle. To keep your balance, you must keep moving. In this regard, the innovation ecosystem in Shenzhen stays essential to its digital success and smart development.
Fourth, as Confucius said, humility is the solid foundation of all virtues. Shenzhen's government showed it possesses this virtue by reaching out to other global cities and learning from their experiences. Last May Shenzhen hosted "2019 Shenzhen Smart City Forum With International Friendship Cities", gathering municipal leaders from across the world as well as global experts and scholars to discuss smart cities of the future. It is likely that the Shenzhen forum will become an annual event and it could foreseeably become the biggest event in the world for smart cities, where mayors of major cities convene to exchange their experiences and learn from global best practices. In particular, business models can be explored to examine the value for money of new services offered by smart cities.
To sum up, Shenzhen has great potential to become a test bed for the most innovative smart city applications. However, to achieve this, Shenzhen should further underpin its digital infrastructure and beef up international cooperation. For example, as research on 6G has already started in China, Europe and some other countries in the world, Shenzhen should embark on relevant work and even create the biggest 6G research center in the world.
Second, it is crucial for Shenzhen to continue developing cooperation with other cities in the world. Dozens of European participated in the Smart City Forum including the COO of Genova, Italy's major Mediterranean port city. Shenzhen should pay special attention to Italy which just hosted a state visit by Chinese President Xi Jinping in March, as Italian and Chinese cities are showing growing interests in developing relations with each other.
Rome wasn't built in a day. To develop smart cities, maintaining continued efforts and investments will remain crucial. In this way, the world can expect Shenzhen to become a global leader for smart cities, in the years to come.
(China Daily Global 05/15/2019 page13)