The World Internet Conference: China calls for a shared future in Cyberspace
On December 16-18, the Second World Internet Conference took place in Wuzhen, a beautiful water town with over 1300 years of history, located near Hangzhou, in Zhejiang Province. Over 2000 guests from over 150 countries participated to the Wuzhen Summit, including Heads of State, Ministers, Internet experts and business leaders. Wuzhen offers a unique combination of Chinese traditions with modernity. Wherever one goes in the historic city, there is 4G coverage. Moreover, open access to WIFI is provided in hotels, bars, buses and on the streets without charge.
Chinese President Xi Jinping opened the three-day Conference, laying out his vision for the Internet and calling all countries to step up communication and challenges, improve dialogue and consultation mechanisms on cyberspace.
In particular, president Xi called for:
speeding up the construction of global network infrastructure to advance interconnectivity.By 2020, China's broadband network will cover almost all villages. China is willing to work with all parties concerned to invest more funds and strengthen technical support to jointly promote such infrastructure construction.
Building online platforms for cultural exchange and to promote mutual communication.China is willing to work with all countries to give full play to the communication advantage of the Internet platform, to let people around the world learn about China's excellent culture, to let Chinese learn about the excellent cultures of other countries and to promote the prosperity and development of an Internet culture.
Promoting the innovative development of the Internet economy to boost common prosperity.China is willing to strengthen cooperation with all countries on developing cross-border e-commerce and establishing demonstration areas for the information economy, to promote investment and trade around the world.
Safeguarding Internet security to enhance development in an orderly way.China is willing to work with all countries to strengthen dialogue and exchange, to control disparities effectively, to formulate international rules of cyberspace that could be generally accepted and international anti-terrorism conventions for cyberspace and to improve the judicial assistance mechanism to crack down on crimes online to safeguard the peace and security of cyberspace.
Establishing an Internet governance system to promote equity and justice. All countries should strengthen communication, improve the dialogue and negotiation mechanism of cyberspace and study and formulate global Internet governance rules to make global Internet governance more fair and reasonable.
The Wuzhen Summit identified set up a High-level Advisory Council (HAC), run under the leadership of Minister Lu Wei, Director of the Cyberspace Administration of China, with the objective to support the achievements of the objectives set out by the Chinese President. The HAC is an advisory group aimed at providing advices and recommendations for the World Internet Conference (WIC), which is becoming a reference for the global Internet community. The thirty-one-member strong council met on December 17th for the formal installation of the Body. Issues related to the cyberspace governance and the future of the Internet will continue to be at the center of the discussions at the HAC.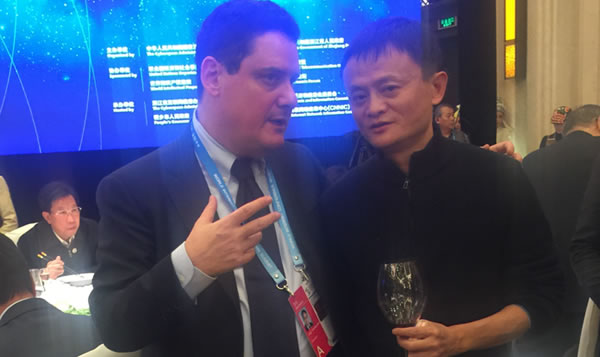 The endeavours of ChinaEU to intensify business cooperation between Chinese and EU companies, was rewarded by WIC, which designated ChinaEU President Luigi Gambardella to be part of this important advisory group, which includes, among others, Founder and Executive Chairman of Alibaba Jack Ma, President and CEO of ICANN (Internet Corporation for Assigned Names and Numbers)Fadi Chehadé, both Co Chairs, Founding Partner of Sequoia Capital Neil Shenand Nokia Chairman Risto Siilasmaa.
In his closing speech, Minister Lu Wei underlined the importance of President Xi's words in defining the Chinese vision of Internet governance, which should be open to the participation of every country and every organization. He also said:"Over 20 years, China has chosen its own development path of the Internet. Under the principles of innovation, coordination, green, openess and common sharing, China has the ambition and the confidence to become a strong Internet nation".
In July this year, Minister Lu addressed an audience of European ICT industry players in a ChinaEU-led event in Brussels, making it clear that foreign Internet enterprises are encouraged to take part in China's Internet development as long as they do not hurt China's national and consumer interests.
Jack Ma echoed President Xi's vision of a multilateral cyberspace governed by all. He said "The Internet is just like the water in Wuzhen, interconnected and clear, but needs joint management and governance. Principles of openess, sharing and transparency are key for joint governance of the Internet and this is a responsibility that shall be shared by both the governments and the individuals". At the World Economic Forum Annual Meeting of the New Champions in Dalian last September, Jack Ma proposed the creation of an "eWTO" calling for businesses and government to bring the benefits of the Internet to developing countries, women and young people.
Luigi Gambardella, President of ChinaEU, said: "The annual World Internet Conferences organized in China since last year became already one of the most important fora in which the future of our common cyberspace is being shaped. The success of this years' Conference shows not only that China is fulfilling its ambition to become a leader in the Internet world but also emphasizes the increasing importance of China in the global Internet community. Europe and China need more dialogue, more openness. We need to better understand the different points of view and each other's concerns and find ways to improve the Internet governance."
PRESS REVIEW