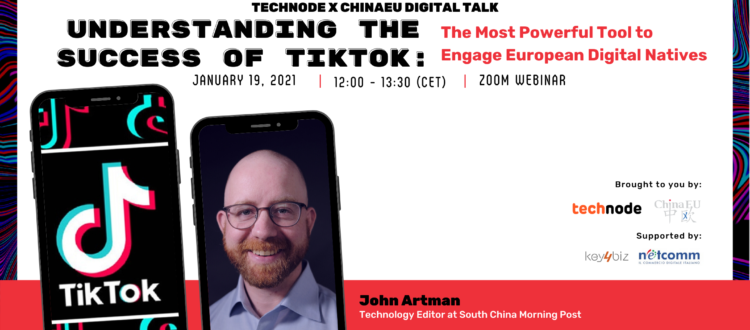 Meet John Artman, Tech Editor of South China Morning Post
One week prior to the event "Understanding the Success of TikTok: the Most powerful Tool to Engage European Digital Natives", ChinaEU's Director Claudia Vernotti spoke with John Artman, utmost China tech connoisseur and Tech Editor of the South China Morning Post, to uncover some insights on his work in China and seek his views on the success of ByteDance's products and TikTok's global expansion.
Claudia: John, you have been in China for well over a decade by now, if I'm not wrong. Over this time, you have played a major role in explaining to foreigners what is happening in the ever-changing tech landscape in China. You have led TechNode's editorial team, launched and run a weekly podcast – China Tech Talk – and you are now heading the Tech edition of the most popular newspaper of Hong Kong, the South China Morning Post. Can you tell us more about your China story and what prompted you to dig into the tech landscape of this country? What do you find so fascinating about Chinese entrepreneurship in this sector and what differences do you see from the Silicon Valley model?
John: I moved from the US to Beijing in 2008 to become an English teacher. I majored in psychology and philosophy, with a minor in Chinese. I did not know what to do… I mean what do you do with a psychology and philosophy degree, besides going to grad school (which I did not want to do)? So I found a job teaching English in Beijing, then I worked for China Radio International for about five years, moved into localization for over a year and then I ended up working at TechNode. Did that for 3 years before joining the South China Morning Post in August 2020. I have always been interested in China. It was my minor in university, but I also fell in love with Chinese culture and especially Chinese philosophy – to this day I'm a big fan of ancient philosophy works like the Daodejing and the Yijing. When I first came to China I really fell in love. On the other hand, I've always been a bit of a tech nerd. When I was a kid, my parents used to get mad at me for breaking the family personal computer (I promise, it was not my fault). I've always been interested in technology and especially personal computers. When I was in radio, I covered technology superficially, doing some reporting on that, thus getting in touch with the tech scene. And obviously, when I started to work in TechNode that was the time to really get my hands dirty on tech and reconnect with sources and people in the industry. I was out of media and not covering technology for almost two years, so coming back into it when I joined TechNode, it was shocking how quickly things had changed. For me, technology in China has always been exciting. China itself is a very exciting story to begin with, but then you look at the technology in China right now, it's setting global standards across multiple metrics.
In terms of Chinese entrepreneurship and differences from the Silicon Valley model, the number one difference I see is in the working hours. There is an almost unhealthy devotion to work that we see in China's tech sector, that is showing a lot of negative impact these days. But at the same time, the 996 work culture – 9am to 9pm six days a week – is one of the big reasons for China's speed. On the part of the employees, there is a lot of motivation to work hard, and on the part of founders and upper-level executives, they have to keep pushing in order to stay competitive. Another big difference I would like to mention is that Chinese companies are not as mission-driven as Silicon Valley companies: Facebook – not sure if it's like this anymore – their mission was to "connect everyone in the world", and Google's mission for a while was "don't be evil". They paid a lot of lip service to these missions throughout their communication. But you can see that for a lot of the tech giants in China, the mission is very practical: help people discover their needs and find solutions, help people discover more delicious food that they can get delivered up to their door. I think that overall that shows the difference between the US and Chinese business cultures.
Claudia: I know that you have been a close follower of ByteDance, the mother company of TikTok, for several years. You have dedicated an ad-hoc newsletter on TechNode as well as several issues of your podcast on the rise of this company. In few words, what would you say are the main elements that make ByteDance and its products so attractive?
John: In my opinion, ByteDance is the first and perhaps the only Chinese tech company that is a true analogue to companies out of the Silicon Valley. The company is built around technology, the latest technology. Maybe one of the first companies in China with a similar story was Baidu. Just like Google, Baidu's entire business is built upon search technology. Baidu has lost their way in a certain sense, but ByteDance has really picked up that mental. Everyone associates ByteDance with TikTok and Douyin, and silly people making silly videos. But at the same time, at the end of the day, ByteDance is an artificial intelligence company, they are an AI-driven recommendation company. They even have gone so far as to develop B2B services for recommendation as a service, so basically helping smaller developers implement a similar algorithmic recommendation function that they have developed for both Jinritoutiao and for Douyin. This is why I find ByteDance to be so fascinating. To be honest, I'm not a big fan of their products (on Toutiao, there is a lot of junk, I'm a news person, I want to find news and it is difficult to find hard news in the Toutiao product). And then of course with Douyin or TikTok, I'm just not interested in watching people do silly things. I do understand of course that there is a growing educational component, which is very interesting. But I'm not going to take the time to curate my feed in order to serve for more of that content. So for me the company itself is mainly about the organizational psychology, the founders' psychology, the engineering first, the commitment to great user interface and great user experience. This is really what sets them apart and makes them so interesting to me.
Claudia: TikTok is one of the few, if not the only case of a China-born application which has taken the world by storm. One could argue that Tencent's WeChat has also made it globally, but the users of WeChat are mainly a niche of China's aficionados. How do you explain the unparalleled success of ByteDance's TikTok out of China, notwithstanding its Chinese origins and rising US-China geopolitical tensions which almost led to a change of ownership of TikTok?
John: ByteDance is I think one of China's only true technology companies, and I think a lot of people disagree with me on that, but when I say a true technology company I have a very narrow definition. Their entire business is built around this AI-driven recommendation system. This system is culturally agnostic. That's why their recommendation as a service offering could potentially work. I don't know what their status is on this, to be honest. The thing is, what they have done is they built a way to create and scale recommendation algorithms. These algorithms are culturally agnostic and they can be applied in so many different scenarios, because all they need is behavioral information, all they need is for you to spend time in the application and they will as quickly as possible figure out what you want. You can apply this in many different scenarios inside of many different products. So part of it is about their technical edge and their ability to create this technology. But then with TikTok, you have to remember that they bought their way in for international success, they paid millions of dollars for Musical.ly, which was very popular in key Western markets: the US, the EU, Russia, India. And once they got their hands on Musical.ly they rebranded it into TikTok and they spent a lot of money on marketing and advertisement. They bought a lot of their growth with TikTok.
Even then, you look at what is WeChat – WeChat is culturally dependent, there is no back-end culturally agnostic technology – the technology of WeChat is literally what you see on WeChat, very similar with Taobao. These things are so well optimized to the culture and the market that they grew up in that it has been difficult for these companies to pivot internationally. We can see that it is definitely changing a little bit. Alibaba is making some strong progress in South East Asia, so is Tencent as well with e-commerce in South East Asia. Payments are slowly but surely taking off there as well. Whether or not WeChat can supplant WhatsApp and Line and KaKaoTalk in South East Asia is a big question. So that's really what it comes down to: ByteDance created the technology and built everything around that technology. Whereas Alibaba and Tencent created a product and then the technology to support that product, ByteDance created the technology and then the products on that technology. This is what makes ByteDance's TikTok and its other products so unique and allow them to have the amount of global success that they have had so far.
This is a little spoiler of what you will be hearing on 19th January. Only few days are left: make sure you get one of the few last early bird tickets by registering here.