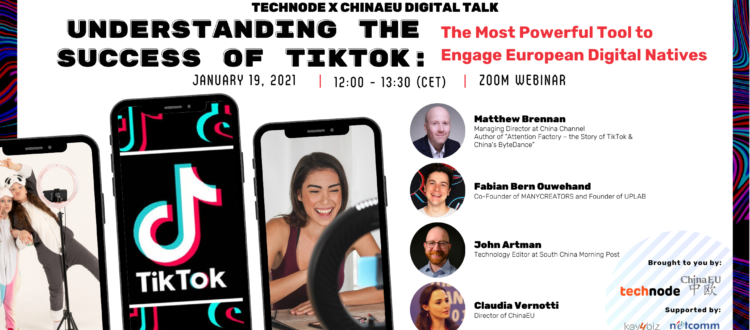 TechNode x ChinaEU Digital Talk
We are excited to launch our first digital talk in collaboration with TechNode – Understanding the Success of TikTok: The Most Powerful Tool to Engage European Digital Natives on 19 January 2021 at 12:00-13:30 (CET).
The last couple of years saw the meteoric rise of a new form of digital entertainment: recommendation-based user-generated short video app TikTok. TikTok has taken Europe's – and the world's – youth by storm. Today, it is the most downloaded non-game app, beating entrenched competitors like Baidu, Tencent, and Facebook. In September 2020, it surpassed 100 million monthly users in Europe and it is still growing. What explains this incredible success, and how can European brands and content creators best leverage this powerful platform to reach young (and not so young) global audiences?
Join us to discover this and much more from Matthew Brennan, author of the new best-selling book "Attention Factory: the Story of TikTok & China's ByteDance", together with a panel of experts of digital marketing and China's internet technology.
Interactive online panel on Zoom
hosted by Claudia Vernotti, Director of ChinaEU
Guests:
Matthew Brennan, Managing Director at China Channel &
Author of "Attention Factory – the Story of TikTok & China's ByteDance"
Fabian Bern Ouwehand, Founder & Growth Director of UPLAB
John Artman, Technology Editor at South China Morning Post
Fabrizio Marrella, Vice Rector for International Relations and International Cooperation at Ca' Foscari University of Venice